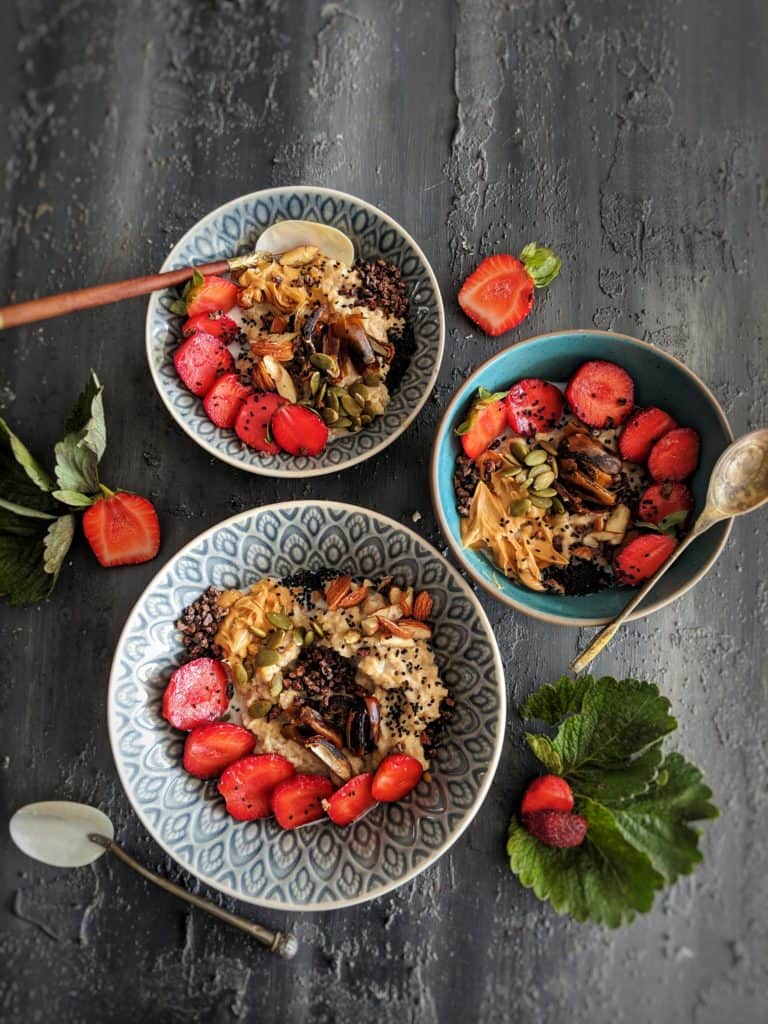 "It truly amazes me all the things you can add and mix in to truly transform a plain old bowl of oatmeal."

~Ayesha Curry
Humble, simple, handy, convenient, nutritious, but…BORING – are some of the tags associated with a bowl of oatmeal. Oats have been a part of traditional meals for people from several countries and cultures, but oats made their inroads within India and onto Indian breakfast bowls only since little more than a decade ago. I mean, don't get me wrong – oats (known as Jai in rural parts of India) were always native to India as well, but they were grown mostly as animal fodder, and it was around the year 2007 when Quaker Oats made a grand entry, that Indians started looking at oats as one of the wonder grains out there.
A nutrition powerhouse, oatmeal is the perfect balance of carbohydrates, fiber and protein. The beta-glucan soluble fiber content is capable of keeping cholesterol at check, as well as keeping one satiated and fuller for longer time, making weight management an easier ordeal. Whole-grain variety of oats boast of a rich antioxidant and polyphenol profile, and a half-cup serving would offer you minerals like Iron, Zinc, Magnesium, folate and vitamins B1 and B5. What is more, oats are very, very versatile – provided you know how to prepare them right – and convenient meal option too.
So, even with the multitude of benefits, one finds the easiest, quickest and potentially most nutritious bowl of oats porridge, somewhat…plain and boring? How do we make it interesting, but not hugely time-consuming? Easy! Try this recipe 🙂 You can also try my ChocolateProtein Pancakes, JamunMillet Muesli Smoothie Bowl, or HealthyAloo Bhat to make your breakfast truly memorable!
I use fresh seasonal fruits, assortment of nuts and seeds, my homemade peanut butter, cocoa nibs, etc to jazz up my oats porridge. This way, I can aim for balanced nutrition, as well as transform it from plain-looking to exciting in a matter of minutes. After all, we eat with our eyes first, and visual hunger cues find deep roots in human evolution!
This recipe is extremely versatile as well – you can add fruits like apples, bananas etc to suit your taste. Nut butters can be varied as well – I sometimes drizzle a spoonful of freshly-made tahini instead of peanut/ almond butter to avail the nutrition benefits of sesame seeds.
RECIPE: [The Bestest Ever] Oats Porridge Bowl
Serves 4
Preparation Time: 20 minutes
INGREDIENTS
For Oats:
1/2 cup steel-cut oats (Quaker)
1 cup water/ milk
For Toppings:
1 cup strawberries/ any seasonal fruit of your choice
2 tbsp flax seeds
10-12 almonds, pre-soaked & chopped
2 tbsp pumpkin seeds
3 tbsp chia seeds
2 tbsp peanut butter/ any nut butter
3-4 omani dates, deseeded & cut in strips
2 tbsp cacao nibs (I use Mason & Co. variety)
1 cup almond milk/ any milk of your choice
INSTRUCTIONS
Heat the water/ milk in a saucepan and add oats once bubbles start appearing. Keep stirring constantly to prevent lumps from forming.
Reduce the flame and allow to simmer for 20 minutes, until soft, porridge-y texture is achieved.
Serve in bowls. Add almond milk to adjust the consistency to your liking.
Add toppings and devour!
I'd love to hear how this recipe turned out for you, if you tried it. Do post a pic on Instagram and tag #fitfoodiediary in the picture!
NOTES
Store any leftover cooked oats in a sealed container. You can reheat it the next day in the microwave or by transferring cooked oats in a bowl and placing the same over water simmering in a saucepan.
NUTRITIONAL INFORMATION (per serving)*
| | |
| --- | --- |
| Energy | 362 calories |
| Protein | 16 g |
| Fat | 18 g |
| Carbohydrates | 52 g |
| Of which, Fiber | 14 g |
*Recipe is for 2 servings; all values in grams.