Ever wondered how to have your cake and eat it too? Add to the Christmas cheer with this healthy cake, with the goodness of jowar and wholewheat atta that is free of refined-sugar and eggless. Moist, delightfully tasty and wholesome too – also makes for a wise option for your kids' lunch box!
I first made this cake on a whim – sister was visiting and she wanted "something sweet and baked which was non-chocolatey and light and yet healthy"! Phew! Enter the easiest, moistest cake with a crisp crumb and goodness of millets and carrots too. Sound too good to be true? There's a lot more to it!
The addition of grated ginger, nutmeg and cinnamon is what I believe makes the difference – beautiful aromas waft in the kitchen as this cake bakes in the oven. Pair it with a steaming cup of chai, grab a favorite book or watch the sun setting as you savor a slice – this one's ideal for a slow and mindful life.
I use the white variety of jowar aka sorghum flour in this cake, given its wheat atta-like texture and ease of baking. Want to make the cake vegan/ gluten-free? Read through the Notes listed under Recipe section .
A nutrient and antioxidant powerhouse, Jowar has cancer-fighting properties, as well as high fiber content (as much as 12 grams per cup) that's a boon for diabetics and weight-watchers. High in protein (22 grams per cup) and Iron (8.5 mg per cup), it becomes an ideal inclusion for vegetarians – just remember to pair with other nuts and grains for complete amino acid profile and Vitamin C source for easy absorption of the iron content.
If you're looking for more healthy dessert recipes for the upcoming festive season, do check my Peach Wholewheat Shortbread Tart, Cherry Upside Down Ricotta Cake, or my classic Wholewheat Chocolate Ganache Cake.
What's the wait for? Grab your measuring spoons and mixing bowls and lets get started!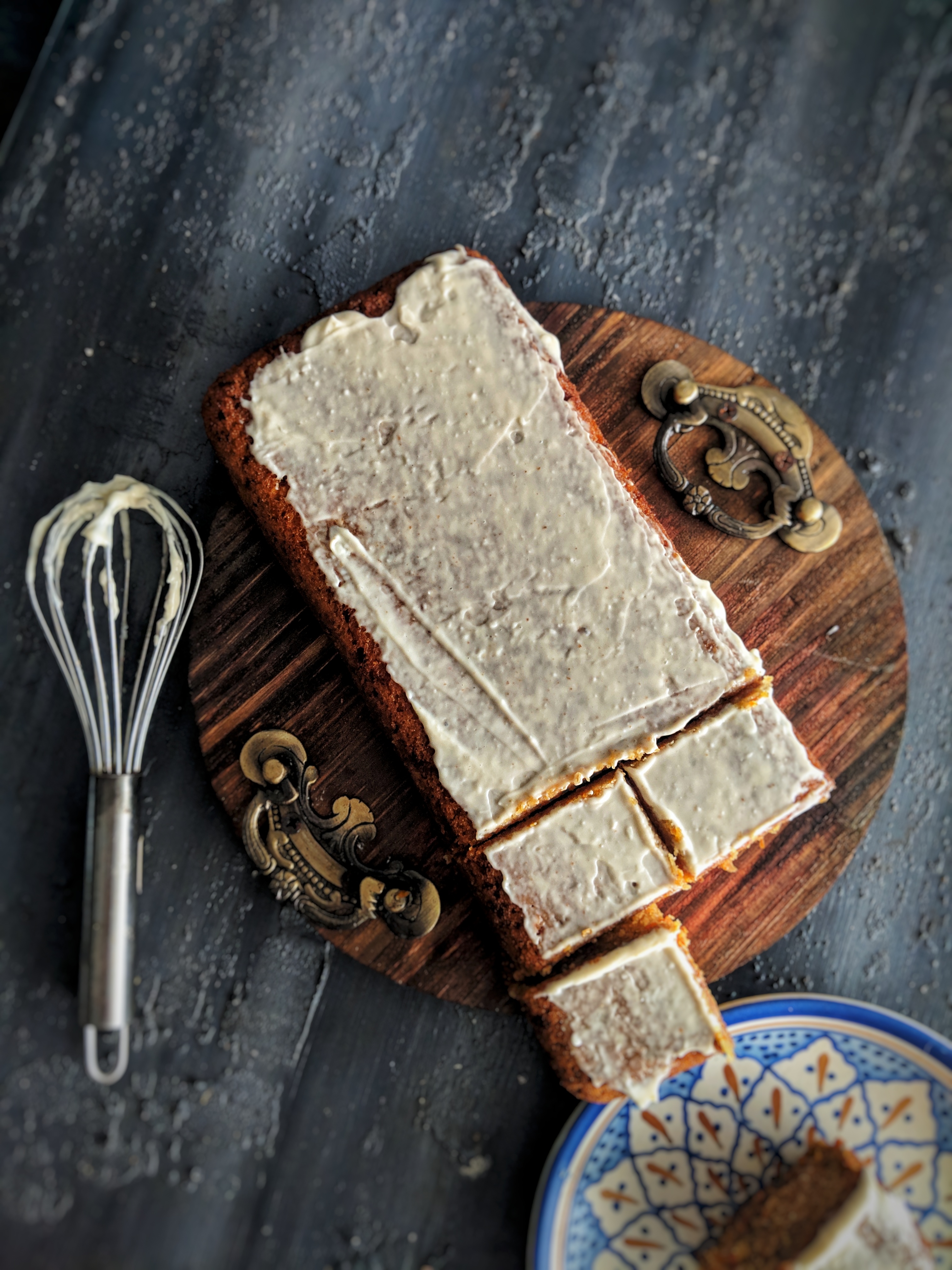 RECIPE: MULTIGRAIN CARROT CAKE
USP: Goodness of jowar and wholewheat atta, Refined-sugar free, eggless, healthy option for your kids' lunch box
Makes a 12"X3"X2" cake; serves 10
Preparation Time: 1 hour
INGREDIENTS
FOR THE CAKE
1 cup jowar flour
1/2 cup whole-wheat flour
1.5 cups grated carrot
½ cup walnuts, roasted & chopped
1/2 tsp baking powder
1 tsp baking soda
a pinch of ginger powder
½ tsp nutmeg powder
½ tsp cinnamon powder
2 tsp vanilla essence
1 cup palm sugar
1 cup yogurt/ dahi
¼ cup water
¼ cup vegetable oil
Salt, to taste
FOR THE FROSTING
2 tbsp cream cheese/ cashew butter (healthier option)
1 tbsp palm sugar (if the dark chocolate is unsweetened)
1 tsp vanilla essence
1 tbsp grated carrots
METHOD
Pre-heat the oven at 180°C. Grease a pan.
In a bowl whisk together all the dry ingredients, i.e. flour, salt, baking soda, and baking powder. Sift and mix well with a spatula. Add cinnamon, ginger and nutmeg powder.
In another bowl, combine the wet ingredients, i.e. oil, palm sugar, vanilla essence, yogurt, water in a separate bowl. Whisk everything together until the palm sugar melts.
Add the dry ingredients to the bowl with wet ingredients, followed by grated carrots and chopped nuts.
Whisk everything together while scraping the sides with a spatula. Take care to not overmix.
Pour the batter into the greased pan.
Bake at 180°C for about 30-40 minutes, until it has risen firm and a toothpick inserted in the center comes out clean.
Remove the pan from the oven and allow to cool completely. Run a knife along the rim of the pan and remove gently on a plate.
Set aside for frosting.
For frosting, whisk the ingredients in a bowl until smooth. Spread on the cake with a spatula.
Devour!
I'd love to hear how this recipe turned out for you, if you tried it. Do post a pic on Instagram/ FB and tag #fitfoodiediary in the picture!
NUTRITIONAL INFORMATION (per serving)
| | |
| --- | --- |
| Energy | 173 calories |
| Protein | 4 g |
| Fat | 7 g |
| Carbohydrates | 27 g |
| Of which, Fiber | 3 g |
*Recipe is for 10 servings; all values in grams.
NOTES
To make the cake vegan, avoid yogurt in favor of 2 cups of Coconut Milk, and avoid cream cheese frosting
To make the cake gluten free, substitute wheat flour with 1/2 cup rice flour and 2 tsp arrowroot flour.