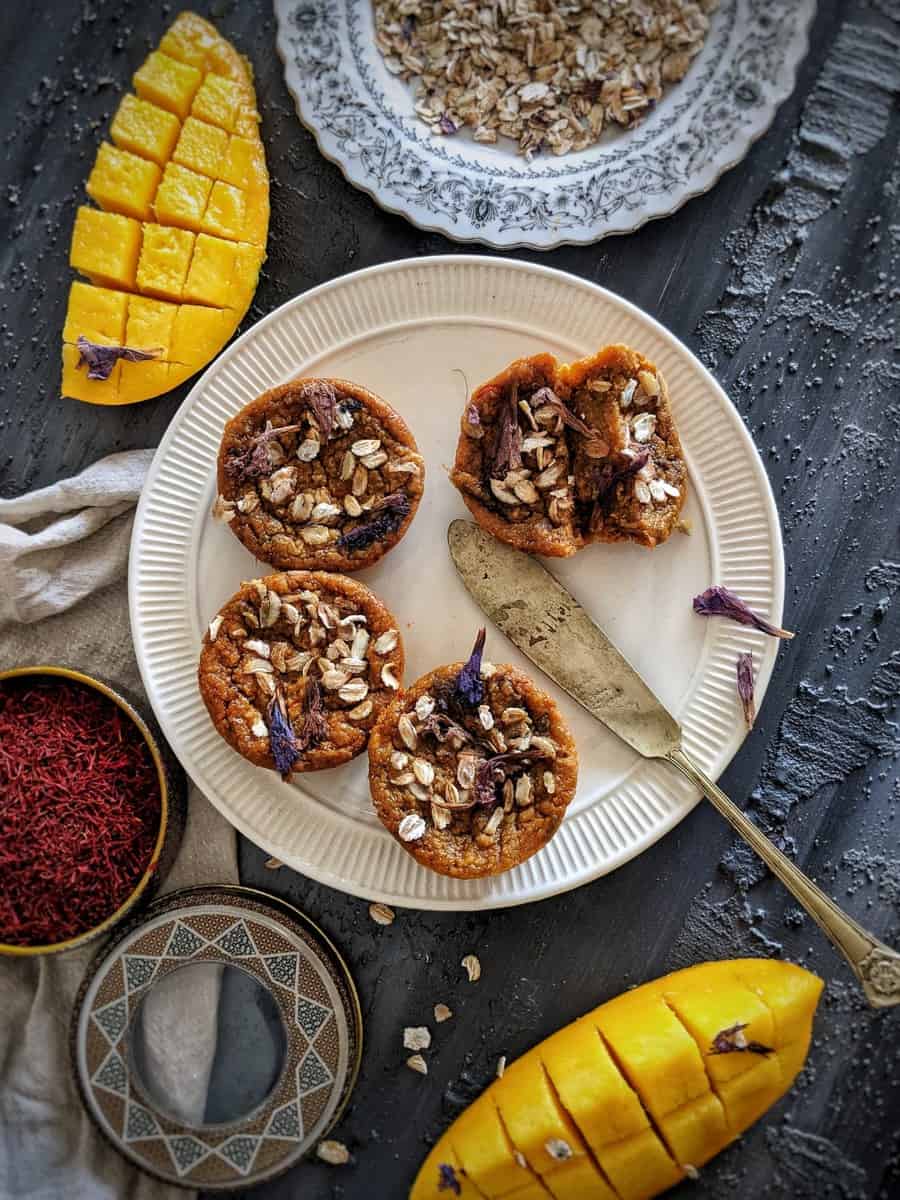 Healthy, wholesome and did I mention mangoes!! Muffins that are really dessert but can be devoured for breakfast as well. Antioxidants from blue pea flower, welcoming fragrance of mangoes and saffron, goodness of oats and whole-wheat flour – need I say more??
More than year ago, I began experimenting with healthier, wholesome flour mixes suitable for baking. We know that the commercial bakeries use refined wheat flour or maids almost exclusively, and that along with numerous fillers and preservatives and copious amounts of sugar makes it not a cupcake but almost a death-wish! I've created and mastered formulations of my own for baking ever since, but the one used for this recipe is the simplest one that I keep resorting to. If you can't believe that these cupcakes have no refined flour whatsoever and instead utilizes heartier, healthier options, grab a whisk and join me in making them. I don't exaggerate when I say that baking with healthier flour mixes gets sort of addictive – once you get used to the nuttier texture you'll find it difficult going back to the bakery-version with empty calories. Thank me later!
 Full of  potent antioxidants, blue pea flowers also help in reducing inflammation, improving vitality and preventing premature ageing.
The blue pea flowers were a gift (read, nag :P) from dear friends from the spice souks of Dubai, but several brands are right now offering these in flower as well as powder form in India as well. I've used the banginapally variety of mangoes for this recipe, but you could use dussehri, alphonso or mallika varieties as well.  The saffron I used is of Iranian origin, from Dubai again. I used virgin coconut oil in place of butter or vegetable oil. I also substituted refined/ white sugar with muscovado palm sugar by Dhampur, which has a lower Glycemic Index than refined sugar.
Once cooled, these muffins can be stored in the refrigerator for a week, and in the freezer for over a month. That is, if they last that long – mine were gone within a day.
*Those of you looking for a way to making this recipe gluten-free, just follow the instructions given below.
If you like this recipe you could try your hand at my Pumpkin Spice Barnyard Millet Cake with Cashew Butter Icing,  Chocolate Banana Millet Sorghum Muffins or Lemon Poppy Seed Buckwheat Muffins or Wholewheat Chocolate Ganache Cake too!
MANGO SAFFRON OATS WHOLE-WHEAT MUFFINS
Makes 12-18 muffins
INGREDIENTS
½ cup oats
1 cup whole-wheat flour
1½ cup mango pulp, fresh
7-8 strands saffron
1 tbsp blue pea flowers/ powder
1 tbsp toasted rye flakes (optional)
1-2 pcs candied lemon zest
2 tsp baking powder
1 tsp baking soda
2 tsp vanilla essence
5 cups palm/ muscovado sugar
1 eggs (can be replaced with 1 cup buttermilk for vegetarians)
¼ cup coconut oil (can use ghee as well)
INSTRUCTIONS
Pre-heat the oven at 200°C.
Whisk together all the dry ingredients, i.e. flours, blue pea flowers, baking soda and baking powder in a large bowl.
Combine the wet ingredients, i.e. mango pulp, saffron strands, vanilla essence, coconut oil, in a separate bowl. Crack the eggs/ add buttermilk, candied lemon zest bits, sugar and whisk everything together.
Add the dry ingredients to the bowl with wet ingredients, mix everything together while scraping the sides with a spatula.
Coat the muffin tray with cooking spray or line with paper muffin cups.
Spoon the batter into individual cups, filling them to 3/4th level. Sprinkle the toasted rye flakes & some more blue pea flowers. Place the tray into the oven immediately. Bake at 180°C for about 30 minutes, until they've risen firm and crust is nicely formed.
Remove the muffin tray from the oven and allow to cool for few minutes. Remove the muffins from tray and let them cool.
Devour!
NOTES
For gluten-free flour, substitute Whole-wheat Flour with 100gms of Arrowroot Starch + 1 cup Rice Flour
NUTRITIONAL INFORMATION (per muffin)*
| | |
| --- | --- |
| Energy | 119 calories |
| Protein | 2.3 g |
| Fat | 4 g |
| Carbohydrates | 22 g |
| Of which, Fiber | 2 g |
*Recipe is for 12-18 muffins; all values in grams.